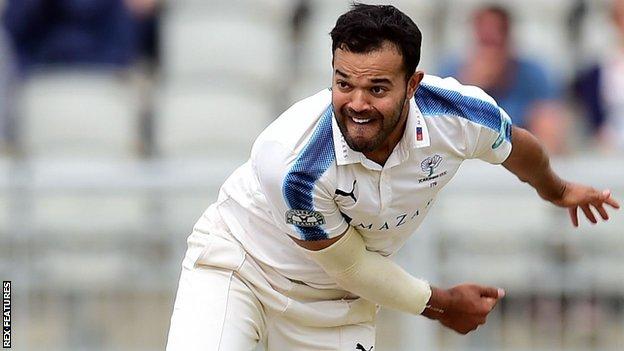 It is the scandal that has engulfed cricket.
One of England's most historic sporting clubs embroiled in a damning episode, accused of being institutionally racist by one of their former players.
Azeem Rafiq, a 30-year-old former professional cricketer, who says he was close to taking his own life, has detailed racism encountered at Yorkshire County Cricket Club – who have been strongly rebuked for their response.
Rafiq first spoke out in September 2020. Yorkshire CCC chairman Roger Hutton resigned on 5 November 2021, and on the following Monday, Lord Patel took over, apologising to Rafiq and praising his "bravery" as a whistleblower.
Head coach Andrew Gale has been suspended as part of an investigation into a tweet he sent in 2010.
On Tuesday, Rafiq, Hutton and the ECB's chief executive Tom Harrison will give evidence to MPs in a Digital, Culture, Media and Sport select committee.
BBC Sport explains how the situation unfolded and what could come next.
Who is Azeem Rafiq and what did he say happened to him at Yorkshire?
Rafiq played the majority of his career at Yorkshire, between 2008 and 2018.
Born in Pakistan, he moved to England aged 10 and captained England teams at youth level. He also captained Yorkshire in 2012.
However, in September 2020, following an initial interview with Wisden, Rafiq told ESPN Cricinfo "institutional racism" encountered while at the club left him close to taking his own life.
He told BBC Sport he dreaded "every second" of his career and that a team-mate used a racially offensive term linked to his Pakistani heritage.
What did Yorkshire do in response?
Yorkshire launched a formal investigation into Rafiq's allegations in September 2020 and chairman Roger Hutton said the club would be carrying out a "wider review" of their "policies and culture".
Law firm Squire Patton Boggs was appointed to carry out a full independent investigation.
On 13 November 2020, Rafiq gave his first statement to the inquiry, making a number of detailed racism allegations. Rafiq said he hoped to bring about "meaningful change".
When did the investigation conclude and what did it find?
Yorkshire received the findings of the investigation in August 2021 and initially said they would release a statement in "the next couple of days".
Two days later, the England and Wales Cricket Board wrote to Yorkshire asking for a copy of the findings.
The following day, Yorkshire, still yet to release the findings of the report, admitted Rafiq was "the victim of inappropriate behaviour" – something he said was downplaying racism – and offered him their "profound apologies".
Then on 10 September, following further pressure from MPs, Yorkshire released their own summary of the findings of the report, although the club were widely criticised for doing so on the same morning of the abandoned fifth Test between England and India – which was dominating sports media headlines.
The report summary said Rafiq was the "victim of racial harassment and bullying", with seven of the 43 allegations upheld, although the club said they could not release the full report for legal reasons. They said there had been insufficient evidence to conclude the club were institutionally racist.
Rafiq questioned what punishments had been handed out to former players and a coach who had been found guilty of using racist language. He also questioned the validity of the investigation.
Yorkshire were ordered by an employment judge to send the full report of the findings to Rafiq and his legal team by 8 October, but the club missed the deadline.
Five days later, Yorkshire sent a heavily-redacted copy of the report to Rafiq.
On 10 November, that report was finally received by the Digital, Culture, Media and Sport committee, chaired by MP Julian Knight, in advance of a much-anticipated hearing on 16 November.
What are the latest developments?
Despite the findings, Yorkshire said on 28 October that no-one would face disciplinary action following the report.
But the story came to wider attention when ESPN Cricinfo published an article on 1 November claiming a racist term about Rafiq's Pakistani heritage was regularly used towards him, but the investigation concluded it was "friendly and good-natured banter".
In response, Julian Knight MP, the chair of the DCMS select committee, called for the Yorkshire board to resign. UK Health Secretary Sajid Javid called for "heads to roll".
Kit supplier Nike, plus several of Yorkshire's sponsors, including Emerald Publishing, Yorkshire Tea, Tetley's beer and leisure club operators David Lloyd, either ended partnerships or said they would not continue deals.
On 3 November, Rafiq's former team-mate Gary Ballance, the ex-England international, said he was responsible for some of the racist language Rafiq was subjected to during his time at Headingley.
Then on 4 November, the England and Wales Cricket Board delivered a strong response following a meeting of its board. It suspended Yorkshire from hosting international matches "until it has clearly demonstrated that it can meet the standards expected".
Later that day, former England and Yorkshire captain Michael Vaughan said he was named in Yorkshire's Azeem Rafiq report but "totally denies any allegation of racism".
Vaughan, a BBC cricket pundit, said the report states he told a group of Asian players, including Rafiq: "Too many of you lot, we need to do something about it." But Vaughan says he "completely and categorically denies" saying that.
On 5 November, Yorkshire chairman Hutton resigned, "apologising unreservedly" to Rafiq but claiming he "experienced a culture that refuses to accept change or challenge" at the cricket club.
Board members Hanif Malik and Stephen Willis also stood down and Lord Patel of Bradford was appointed as a director and chair of the club.
Meanwhile, ex-Pakistan bowler Rana Naved-ul-Hasan, who played for Yorkshire in 2008 and 2009, said he heard the comment Vaughan denied making. The BBC said the former England captain would not be appearing on his Radio 5 Live show the following Monday, 8 November.
Yorkshire CCC also launched an investigation after another former player alleged he was subject to repeated racial abuse at the club.
Later on 5 November, the Equality and Human Rights Commission said it was looking in to Yorkshire's handling of the Rafiq case to "determine if there had been a breach of the law".
Speaking on 8 November for the first time since his appointment, Lord Patel apologised and said the club had settled an employment tribunal with Rafiq. Rafiq filed a legal claim in December 2020 claiming discrimination on the grounds of race, separate to the independent investigation, but it had failed to find a resolution.
England all-rounder Moeen Ali said he was not surprised by the scandal and there are "probably more stories out there".
Former Yorkshire academy player Irfan Amjad said he was racially abused by a member of staff as a 16-year-old, claiming a member of staff used a term referencing his Pakistani heritage to criticise his batting style.
On 9 November, Gale was suspended after The Jewish News reported that in 2010, when club captain, sent a now-deleted tweet containing an anti-Semitic slur to former Leeds United head of media Paul Dews.
The club also confirmed Martyn Moxon, their director of cricket, is absent from work because of a "stress-related illness" and "will be given the necessary support".
Also that day, former Yorkshire academy player Tabassum Bhatti gave BBC Sport an account of experiencing alleged racism from team-mates at the club as a 14-year-old.
He said players urinated on his head, desecrated another Muslim player's prayer mat and used racist language aimed at his Pakistani heritage.
Speaking in the House of Commons on 9 November, sport and culture minister Chris Philp said it was "unacceptable" that no one had faced disciplinary action over the Rafiq report. He added that the UK government was ready to "step in" if Yorkshire and the England and Wales Cricket Board did not take "real action" following the racism scandal.
On 11 November, England Test captain Joe Root said the racism scandal at his county side has "fractured our game and torn lives apart" but in response, Rafiq tweeted that he was "incredibly hurt" that Root said he could not recall ever witnessing racism at Yorkshire.
Also on that day, Yorkshire chief executive Mark Arthur resigned. Lord Patel said it was "an important moment for the club, which is ready to move forward with new leadership, which will be vital in driving the change we urgently need".
On 12 November, Yorkshire said their independent whistleblowing hotline for victims of discrimination would open on 15 November, and also confirmed the appointment of Mohinderpal Sethi QC to lead the independent investigation.
On 15 November, England bowler Adil Rashid became the third player to say he heard Vaughan make a racist comment. In a statement to The Cricketer, he said he could confirm what Rafiq had alleged.
Vaughan reiterated his denial, saying the comment "simply never happened" and added: "I have been in contact with the six other players from that team and not one of them has any recollection of the remark being made.
"I fully accept that perspectives differ, and I have great sympathy for what Azeem Rafiq has gone through, but I hope everyone understands why I cannot allow this to go unchallenged or my reputation to be trashed unfairly."
Does this case show cricket in England has a wider problem with racism?
Following Ballance's statement, Rafiq said it was "not about individuals", but rather "institutional racism and abject failures" by leaders at Yorkshire and in the wider game.
He added that Yorkshire and cricket in general "desperately need reform and cultural change".
It is not the first time English cricket has been involved in a racism controversy this year.
Bowler Ollie Robinson was given an eight-game ban after historical racist and sexist tweets came to light during his England debut in June.
The ECB, whose own investigation is ongoing having received the report in full after months of delay, has been told to act by politicians.
In Hutton's resignation statement, he criticised the ECB for "declining to help". Hutton said when he was made aware of Rafiq's allegations, he "immediately reached out" to the ECB "to ask for their help and intervention to support a robust inquiry" but there was a "reluctance to act".
Essex are now facing their own racism allegations – and are encouraging any former players, staff or those associated with the club to come forward if they have experienced discrimination.
Last week Essex chairman John Faragher resigned following an allegation he used racist language in a 2017 board meeting, which he denies.
Former Essex player Zoheb Sharif made allegations of racist abuse relating to his time at the club between 2001 and 2004 – with the club's chief executive John Stephenson saying he was"extremely saddened".
And former bowler Maurice Chambers then said he suffered racist abuse over a 10-year period at Essex, including being frequently subjected to racist jokes and taunts.
What next?
More details are expected to come to light on 16 November when Rafiq and former Yorkshire chairman Hutton will be questioned by MPs, along with ECB chief executive Tom Harrison.
They have been called to attend the DCMS select committee hearing.
Witnesses who give evidence to select committees are protected by parliamentary privilege, which means they are immune from the threat of civil or criminal proceedings relating to what they say.
The ECB said further sanctions, including financial and future major match allocations, could be given at the end of its investigation.